STIHL Genuine DURO Tungsten Tipped Chainsaw Chain 3/8 x. 063 x 84 DL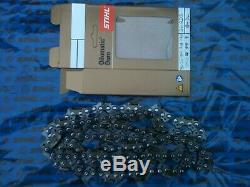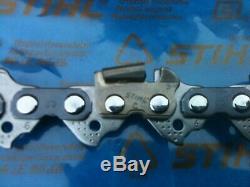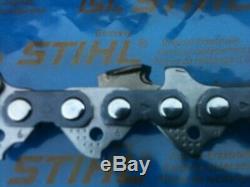 Here we have a very special STIHL product! The 36RD3 "Duro" Tungsten Carbide Tipped Chain. Please note that the length of this chain at 84 Drive Links (DL) is right for 24 and 25 inch bars on STIHL's.
Like the ones that fit the 038, 381, 382, 044, 440, 046, 460, 064, 066, 660 etc. This stuff is fantastic if you want durability, lead a busy life and just perhaps you are not the best at sharpening. Which lets face it, that takes years to totally master the hand filing of chainsaw chain! With this chain you can go all out and cut dirty wood, sand, steel, even rocks now and then and it will keep going for you. Like the sort of thing that will damage a tool steel chain will not normally worry this tungsten tipped chain.
So if your into getting the job done with a minimum of fuss or if the wood your cutting is wild grain, full of ants. And its it's killing your standard chain then this is what you need.
When the chain does eventually dull off, then sharpening is achieved with a diamond disc on any chain grinder. This Chain is from STIHL's SWISS saw chain so the quality of this chain is unsurpassed. And for sure this chain will cut a massive amount of wood for you with very little maintenance.
One other consideration is that there is Cheap (Chinese) Tungsten Chain available with some of the internet sellers. But be warned that this Chain is totally inferior and if you look closely you will see that the tungsten segment part of. The tooth is tiny, like about 1/3rd of the length of the tooth, while my STIHL Tungsten Chain has the Tungsten segment.
Portion taking up the complete length of the tooth! Like 100% of the length of the tooth. And they are not even telling you. That the tungsten is just a small portion of the top of the tooth...
You have to work that out for yourself! In all reality there is no comparison between the cheap knock off brand and the real deal.
OBM Chainsaw Parts supplying Quality at a fair price... 026, 260, 261, 028,031, 032, 034, 036, 038, MS380, MS381, MS382, 391, 041, 044, MS440, MS441,045, 046, MS460, MS461, MS462, 050, 051, 056, 075, 075, 0076, 070, 090, 395, 3120, 084, 088, MS880, Contra, Lightning, 070, 090. Husqvarna: 266, 288, 365, 372, 385, 390, 395, 3120. SOLO, ECHO, SHINDAIWA, PARTNER, DOLMAR, SACHS DOLMAR, MAKITA, POULAN, McCULLOCH.
Tungsten Carbide, Stellite Tipped, Hard metal, Demolition Contractors.. The item "STIHL Genuine DURO Tungsten Tipped Chainsaw Chain 3/8 x.
063 x 84 DL" is in sale since Saturday, March 16, 2019. This item is in the category "Home & Garden\Yard, Garden & Outdoor Living\Outdoor Power Equipment\Chainsaw Parts & Accessories". The seller is "outbushman" and is located in Bunbury, WA. This item can be shipped worldwide.

---