15PK Oregon 22LPX068G Chain 18.325.063 68 DL for 501 84 17-68, H26 68 26RS 68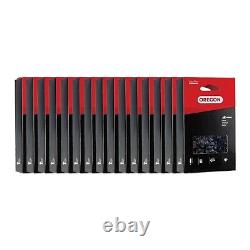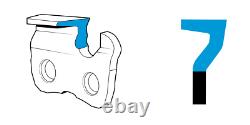 Chain Low Kickback (ANSI) - No. The 22LPX068G PowerCutT Saw Chain is a. 063 gauge, low-vibration chain for professional loggers and forest workers using.
This chain features full chisel cutters for swift and accurate cuts. Cuts are smoother thanks to offset depth gauges which prevent cutters from driving into the sidewall of the cut. The 22LPX068G Saw Chain fits several Stihl® chainsaws including MS230 and MS250. See the Fit Guide for a complete list. 063, drive link count: 68.
LubriTecT keeps your chain and guide bar oiled for less friction and longer life. Blued Cutters deliver high-quality protection against corrosion. Top-Plate Filing Indicators make accurate sharpening easier.
Exclusive OCS-01 Steel provides greater durability. For saw sizes 38-62 cc. 021, 025, 025C, 70, MS 230, MS 230 C, MS 230 C-BE, MS 241 C-M, MS 250, MS 250 C, MS 250 C-BE, MS 251, MS 251 C, MS 251 C-BE. 501 84 17-68, H26 68.

---