Genuine Stihl 046 Chainsaw West Coast Version With Dual Port Muffler All Oem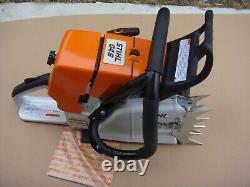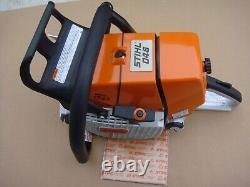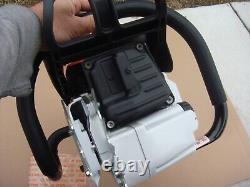 FOR SALE IS A GENUINE, STIHL, 046 CHAINSAW POWER-HEAD. THIS WAS COMPLEATLY GONE THORUGH DURING THE REBUILD. MANY NEW PARTS HAVE BEEN USED. NO CHINA JUNK ON THIS SAW. NEW, FUEL TANK (FROM A NEW MS461 THAT WAS PARTED), FUEL LINE, CARBURETOR, BRAKE HANDLE, 3/4 WRAP HANDLE, CLUTCH COVER, COVERS, CRANKCASE BEARINGS, PISTON PIN PEARING, CYLINDER & PISTON KIT, GASKET & SEAL KIT, FILL CAPS, BAR PLATE, IMPULSE LINE, DUAL PORT MUFFLER AND MORE.
WHEN I REBUILD THEM, I REBUILD THEM. I DONT PAINT A PIG LIKE MANY DO.
THE CARBURETOR IS TUNED ON THE RICH SIDE FOR THE BREAK-IN. IF YOU DO NOT KNOW HOW TO TUNE A CARBURETOR, HAVE A PROFESSIONAL DO IT FOR YOU. ALWAYS LET YOUR COLD SAW RUN FOR A FEW MINUTS BEFORE GOING FULL THROTTLE.........
PISTONS EXPAND FASTER THAN THE CYLINDER. THIS WILL PREVENT SCORING AND EXTEND THE LIFE OF THE SAW.
I SUGGEST USING NON ETHANOL MIXED FUEL IN THIS CHAINSAW. IF YOU DO NOT KNOW WHAT MIXED FUEL IS, THIS SAW IS NOT FOR YOU.

---