Holzfforma G660 PRO Chainsaw 92cc MS660 Chain Saw Modified Ported & piped Stihl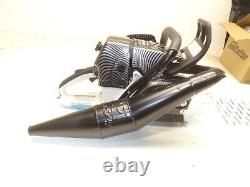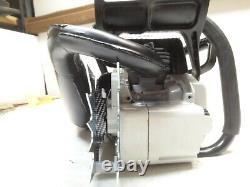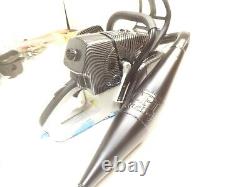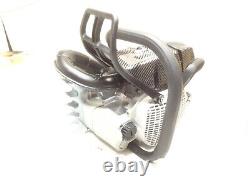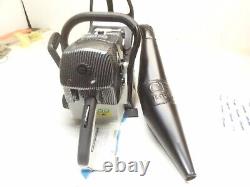 This is a modified chainsaw NOT FOR BEGINNERS! PRO Model MS660 Holzfforma 92cc Gasoline Two-Stroke Chainsaw Power Head. It has been professionally ported, then cpi built a pipe to match the porting. If you know and understand about "modified" saws, then this would be considered a "Work ported" saw.
It's not a full blown race or competition saw. This powerhead will require 91+ octane with a 32:1 ratio oil/fuel mix. Very very fun saw to use. Will bring a smile to the operators face, and draw attention wherever it goes.
Saw has only been tested and tuned here in our log yard. Please feel free to ask questions. This is the newest and best updated version 2022 model. NO BAR AND CHAIN INCLUDED.
Interchangeable Parts: Farmertec/Stihl MS660 066 parts. Magnesium Alloy Recoil Starter / Crankcase / Sprocket Cover as shown in the picture, make your work easier and safer. Product Name: 92cc Holzfforma® G660 PRO Gasoline Chain Saw Power Head Without Guide Bar and Chain Top Quality By Farmertec All parts are compatible with MS660 066 Chainsaw. UP FOR SELL IS 92cc Holzfforma® G660 PRO Top Grade Chainsaw Power Head With Walbro Carburetor Italy Tech Nikasil Cylinder Meteor Piston Caber Ring NGK Plug Tank Protective Guard Wrap Around Handle Bar Larger And Stronger Sprocket Cover Without Guide Bar And Chain.
Chainsaw type Holzfforma single cylinder 2 stroke engine. Total Mass Without bar and chain 8kgs. Cylinder Displacement 91.6cm35.6 cu. Power Output to ISO 7293 7.0HP(5.2KW). Idle Speed 2,500 RPM. Maximum Power Speed 13,500RPM. Cylinder Bore 54mm(2.13IN). Cylinder Stroke 40mm(1.57IN). Carburetor Model Name Diaphragm carburetor. Fuel Type Unleaded 90 +RON. Fuel Mix 2 stroke 25:1 (25 parts of unleaded fuel to 1 part of 2 stroke oil). Fuel Tank Volume 27.9 fl. Guide Bar 20", 25", 28", 32" or 36. Maximum Cutting Length 50,63,70,80 or 90 cm. Guide Bar Type Sprocket Nose. Chain Sprocket Standard 7 tooth 3/8 pitch.
Chain Lubrication Fully automatic oil pump. Bar Oil Type SAE#10W-30 or Similar. Oil Tank Capacity 12.2 fl.

---