Stihl 090g Chainsaw Vintage Big Saw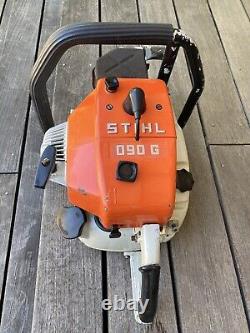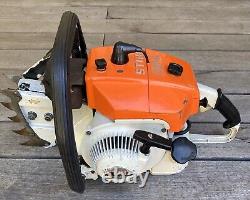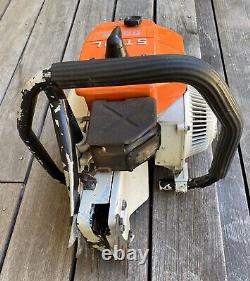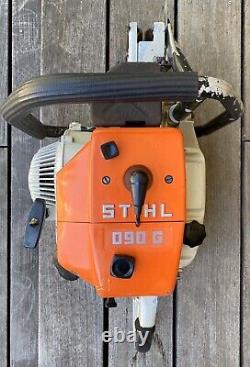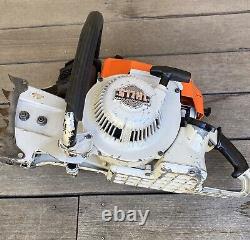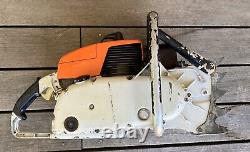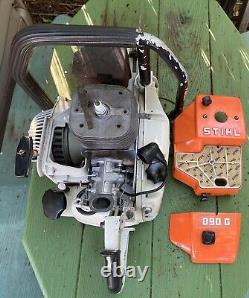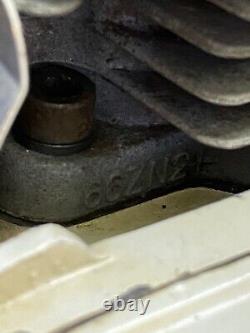 Original Stihl 090G Gear Drive chainsaw. Has the OEM Mahle 66mm cylinder and piston. SAW HAS BEEN SERVICED AND RUNS GREAT!
Capable of running massive bars. Has an NOS OEM Stihl 404. 063 sprocket to run modern chain.
It's in great condition and has been very well cared for. If you search 090G Super, you will read up on one guy's opinion that Stihl never made a factory Super model in this series saw, but rather a West Coast dealer did. Even though this forum guy bases his conclusions on zero original factory production documents to prove his theory - solely basing his statement on saw ownership, I leave it up to you to decide if Stihl actually made this Stihl 090G (Super) model. Its a beastly chainsaw that's sure to be a gem in your collection.
Saw is listed for sale locally on cl sf and fake book. Please feel free to ask any questions. Video of saw running is available. Rare Mcculloch BP399-T ghost motor and other big vintage chainsaws available - inquire.
Echo blower trimmer Genny generator sugar creek supply roper hedger br450 500 550 600 700 800 kioritz little wonder husky husqvarna david bradley mac mcculloch stihl sachs dolmar jonsered makita craftsman poulan homelite shindaiwa logger cord half cord chain saw chainsaw chainsaws chain saws chain saw vintage collector old school old skool mall bucking spikes felling dogs dawgs strunk racesaw race saw hotsaw musclesaw muscle saw speedsaw hot saw bolen bolens 066 ms660 084 ms880 088 880 028 036 395 192 200 201 031 av 011 038 090 Partner Pioneer P61 P62 p 61 p60 655 poulan655 62 046 ms homelite 750 mac super pro 125c 044 045 056 ms460 046 024 3120 xp big bore 670 268 266 climber limber limb saw topper 372 575 firewood hotrod beanoil hedge trimmer bt150 4 mix 4mix collector roper Acer's saws collector corner rare one of a kind coleman big hat Stihl 090 homelite 3100, Stihl 090g, Stihl Super chsinsaw, Stihl super, Stihl gear drive chainsaw, antique chainsaw, rare Stihl chainsaw, Mcculloch kart, Mcculloch 101B, Mcculloch 101 b saw, rare Mcculloch, Mcculloch np-1, Mcculloch BP399T-t, Mcculloch ghost saw, Mcculloch vintage kart, Mcculloch go kart, Mcculloch super pro 125, Mcculloch pro mac 1000.

---