Stihl MS360 Pro with 25 inch Sugihara bar and chain. (362,361,036,044)Logger saw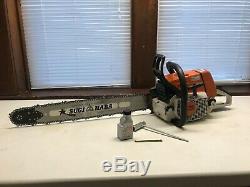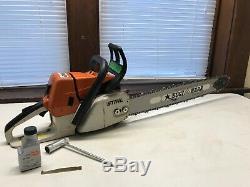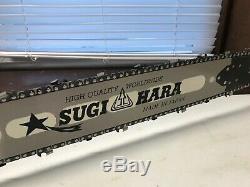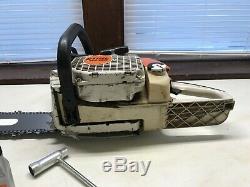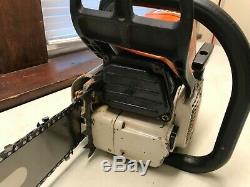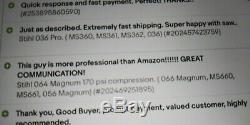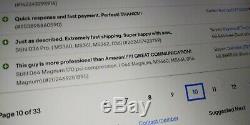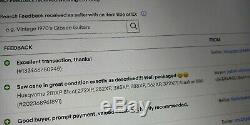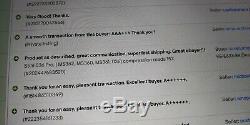 Read slowly and carefully to the end. Stihl MS360 Pro with a 25 inch Sugihara bar and chain. The saw has a new Stens heavy duty pull string made in Germany. A brand new Caber ring. New fuel filter and fuel line.
The saw runs like new. Saw compression is reading 158 psi cold. That may rise as ring seats in. I have run 1 tank of non ox gas and Stihl Ultra through it. Saw is tuned at 40:1 with Stihl Ultra oil. You will need to mix your gas at 40:1. No EPA or auto tune to slow this chainsaw down. Smoke is a good thing. It's the only way to know what is going on inside the chain saw.
What's your time worth? Be aware that verbage like " runs strong" " seems to be fine" " very powerful" means nothing. It only takes 100 psi for a saw to start. With that low of a reading I would suspect a scored piston and bad ring. Anyone who uses Chinese aftermarket parts is doing you a huge disfavor.
The saw will not last long at all. You might get a month or two of usage. We only use Meteor aftermarket parts made in Italy. They are considered by most saw rebuilders as better than new.
If the saw does not have a serial number it's a Chinese knock off. Don't believe some of the clowns on here saying their crankcase is brand new Stihl replacement it's not.
Farmer Tec is the brand. Saw starts, runs, idles, oils. It's been tuned to Minnesota altitude and carb may need adjustment upon arrival at its new home.
Idiots that don't follow advice. Amateurs who can not mount a bar and chain correctly. Amateurs that put the chain on backwards and can't understand why the saw will not cut. Amateurs that dip the bar and chain into dirt and can't figure out why the chain is dull in 3 seconds.
Idiots that don't understand corn syrup gas (gas containing Ethanol) goes bad in 30 days that is why you should use Ethanol free or sometimes referred to as non ox gas. Corn syrup gas does not mix well with oil and you could burn up your saw.
Idiots that use Lawnboy oil as mix. If you think your returning this saw after you have cut down your favorite tree your sadly mistaken. Go rent one from a local rental shop.
Occasionally I can not honor that because I do have a day job. I glue my boxes together and glue extra cardboard in bottom to achieve a very durable box. You can print off your own invoice for your records since I do not have a printer. Don't ask me to send anywhere else. When using a longer bar such as a 25 inch as the chain heats up it will stretch.
You should check the chain every 15 minutes or so. When your done cutting loosen the chain if you do not you risk snapping the crankshaft because the shrinking chain will break it. Think it's not possible?
20 days to go 400 miles. Check out my feedbacks there 100 percent positive. Not responsible for chainsaws stolen off your steps. It's free to open.
It is not my rule. You can divert the saw to your work if that's easier. You can do all kinds of things if you go on their website. Running and operating a chainsaw can be very dangerous. I advice you to be sober and drug free.
The slightest mistake or miscalculation could be deadly. Remember to keep the chain sharp. I recommend letting a shop sharpen the chain. It's best to have several chains that way you can take 3 or 4 in at a time and let a Pro sharpen them. The quickest way I know to score and ruin a saw is to run it with a dull chain.
You will score the clutch side of the cylinder from all the heat being created. If the deal sounds to good to be true it is. Guess what the saw never came. Well the kid had the weight of the saw at 1 pound. That saw and bar would weigh 22 to 28 pounds total.
I have a day job. The item "Stihl MS360 Pro with 25 inch Sugihara bar and chain. (362,361,036,044)Logger saw" is in sale since Tuesday, August 4, 2020. This item is in the category "Home & Garden\Yard, Garden & Outdoor Living\Outdoor Power Equipment\Chainsaws". The seller is "tymetoochange" and is located in Minneapolis, Minnesota.
This item can be shipped to United States.
Type: Chainsaw Mill
MPN: MS360
Brand: STIHL
Bar Length: 25 in

---