STIHL TUNGSTEN TIPPED DURO CHAINSAW CHAIN 3/8 x. 063 Gauge. THE WORLDs BEST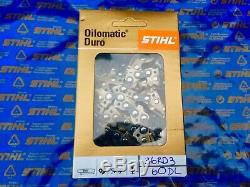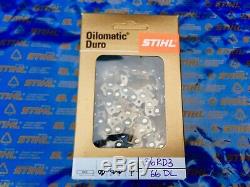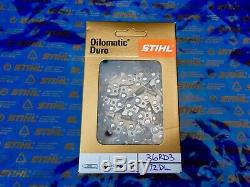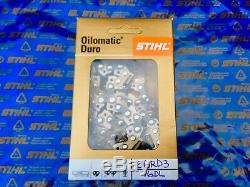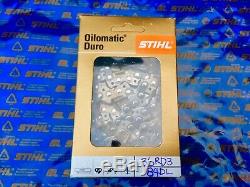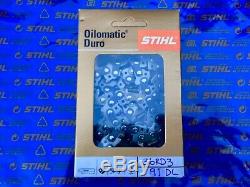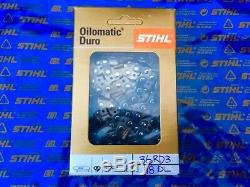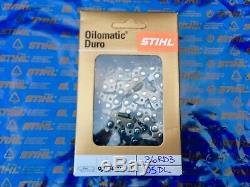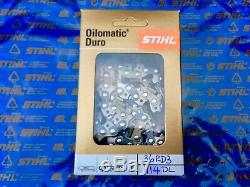 Note: THESE DRIVE LINK numbers are SUITED TO STIHL SAWS THAT USE THE STIHL MEDIUM MOUNT BAR PATTERN. Here we have a very special STIHL product!
The 36RD3 "Duro" Tungsten Carbide Tipped Chain. YOU CAN SELECT THE DRIVE LINK COUNT YOU NEED! This Tungsten Tipped Chain iis fantastic if you want durability, lead a busy life or just perhaps you are not the best at sharpening. Which lets be real here, the hand filing of chainsaw chain can take years to totally master and those that are the really good at hand filing. Have often taught themselves to be ambidextrous! With this chain you can go all out and cut dirty wood, charcoal etc, and it will just keep going for you. I have spoke to many who have cut 10 to 20 tonne of firewood between grinding the chain / sharpening. The sort of "dulling off" that you see on a standard chain you will not see on this chain due to tungstens supreme hardness. So if your into getting the job done with a minimum of fuss or if the wood your cutting is wild grain, full of ants. And its it's killing your standard chain then this is what you need. When the chain does eventually dull off, then sharpening is best achieved with a diamond disc on any chain grinder, however there are other. Diamond burr tools too which I will be stocking in the near future which may work OK, but more on that once I have looked into those. With the correct diamond wheel (a rather expensive set up). This Chain is from STIHL's SWISS saw chain so the quality of this chain is unsurpassed. And for sure this chain will cut a massive amount of wood for you with very little maintenance. THIS GENUINE STIHL CHAIN CANNOT BE COMPARED TO THE GROSSLY INFERIOUR CHEAP AFTER MARKET RUBBISH!!
One other consideration is that there is a lot of Cheap (Chinese) Tungsten Chain available out there being talked up by some internet sellers. That CHEAP Chinese made Chain is totally inferior and if you look closely at that chain and you will see that the tungsten segment part ofthe tooth is tiny, like about 1/3rd of the length of the tooth. This SWISS STIHL Tungsten Chain has a Tungsten segment. Portion that takes up the complete length of the tooth!
Like 100% of the length of the tooth!!! And they are not even telling you.
That the tungsten is just a small portion of the top of the tooth... You have to work that out for yourself!
The life expectancy of the After Market Cheap Chain (in hours of cutting) is less than 1/3 of the Genuine STIHL chain... Thought you should know that!
You cannot really compare the two.. If you are a casual user (non timber industry professional) and with the required grinding with a diamond wheel this chain should last you many years / possibly a lifetime! Tungsten or as the Europeans call is "hard metal" is the hardest metal known, yet it is brittle too, so the trick is not to smash any tungsten tipped blade or chain into anything hard, like steel or rocks as this can cause chipping or shattering of the teeth. Tungsten is harder than steel and most rocks however its best to avoid cutting such things.. OBM Chainsaw Parts supplying Quality Consumables at a fair price...
Custom Length Chains (other than those listed) can be made to order no problem there. Just contact Bill for a price...
As this product is extemely popular. PLEASE NOTE: if there is a DL count / size that you need, please contact me, as I would be happy to make you up a loop or two! We are here and operating 24/7 to support you.
In your sawing and cutting needs! 026, 260, 261, 028,031, 032, 034, 036, 038, MS380, MS381, MS382, 391, 041, 044, MS440, MS441,045, 046, MS460, MS461, MS462, 050, 051, 056, 075, 075, 0076, 070, 090, 395, 3120, 084, 088, MS880, Contra, Lightning, 070, 090. Husqvarna: 2100, 2101, 266, 288, 365, 372, 385, 390, 395, 3120.
SOLO, ECHO, SHINDAIWA, PARTNER, DOLMAR, SACHS DOLMAR, MAKITA, POULAN, McCULLOCH. Tungsten Carbide, Stellite Tipped, Hard metal, Demolition Contractors. The item "STIHL TUNGSTEN TIPPED DURO CHAINSAW CHAIN 3/8 x. THE WORLDs BEST" is in sale since Sunday, May 19, 2019. This item is in the category "Home & Garden\Yard, Garden & Outdoor Living\Outdoor Power Equipment\Chainsaw Parts & Accessories". The seller is "outbushman" and is located in Bunbury, WA. This item can be shipped worldwide.
Guide Bar Size: Suits 16 inch to 36 inch bars...
Type: Tungsten Chainsaw Chain
MPN: 3683 000 1640. 3683-000-1640
Brand: STIHL (SWISS CHAIN DIVISION)

---